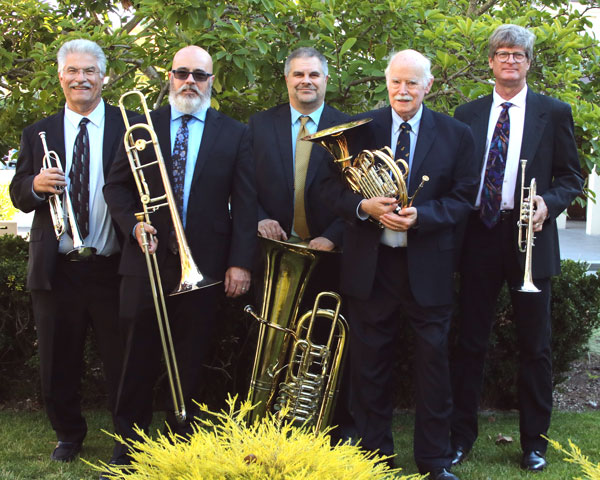 Photo by Janet Hallock
The Menlo Brass Quintet enjoys a reputation as one of the San Francisco Bay Area's finest brass quintets, renowned for outstanding musicianship and the unparalleled diversity of their repertoire featuring more than 1,000 compositions, including over 120 original pieces, performed for the enjoyment of more than 510 concert and special event audiences. The group performs a wide variety of music, from Baroque and Classical to Broadway musicals, popular tunes, Dixieland, and jazz.
Dan Hallock, Jay Shuler, trumpets
Brian Holmes, horn
Randall Chase, trombone
Joel White, tuba

Click here for ♫ music samples

$20.00 plus shipping, handling, and
applicable sales taxes

The Menlo Brass Quintet's CD of audience favorites and new music, featuring the three-movement composition
by Christopher Dedrick, "A Simpler Life," commissioned by the Menlo Brass.

Contact the Menlo Brass Quintet
For concert information and bookings, please contact Dan Hallock:
Postal address

927 Third Avenue
Redwood City, California 94063-4004 U.S.A.